Communities caring for water: Saturday 28 November
This year's Irish Rivers Trust and Catchment Community Groups Seminar: Communities Caring for Water is going online and takes place on Saturday 28 November from 9:00 to 13:00.
Update: this event can now be watched online at https://crowdcomms.com/communitiescfw – if you have any queries reagridng this event please contact the Local Authority Waters Programme – email info@lawaters.ie
It will provide important updates, guidance, and inspiration for those working to protect and conserve rivers on the island of Ireland. This event is being un by the LA Waters Programme and The Rivers Trust.
Topics include:
Funding for smaller groups and trusts
Citizen science
Equity, Diversity & Inclusion
Communications: cutting through the noise of COVID-19.
Book your free place here: https://www.eventbrite.ie/e/communities-caring-for-water-tickets-128271839525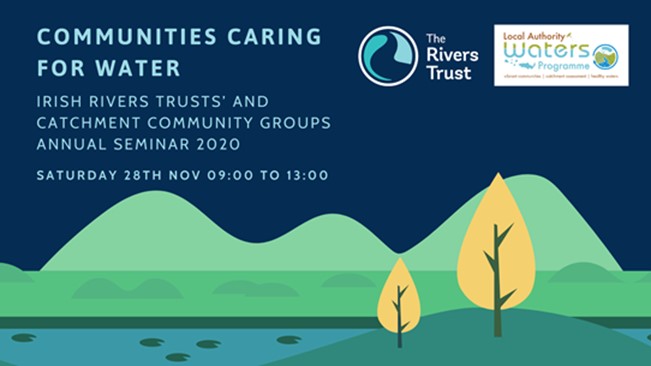 Agenda
Updates from on the ground
09.00 – Welcome
Mark Horton, The Rivers Trust
Sean Keating, LAWPRO
09.10 – Updates from local trusts
and catchment community groups –
Quickfire presentations
Liz Gabbett, Maigue Rivers Trust/Resilience Project

Pat Boyd, Keep Kilkenny Beautiful

Tommy Earley, Farming for NatureAmbassador

Jason Nash, Bandon Rivers Trust
Tools for practitioners
09.30 – Communications: Cutting
through the noise of COVID
Presentations + Q&A
Jayne Mann, The Rivers Trust

Gretta McCarron, An Fóram Uisce / The Water Forum
10.00 – Citizen Science
Presentation, Panel Discussion
+ Q&A
Fran Igoe, LAWPRO

Trish Murphy, Inishowen Rivers
Trust
10.30 – Equality, Diversity &
Inclusion
Presentations + Q&A
Bernie Bradley, Social inclusion
Officer, Monaghan County Council

Geraldine McTavish, GAA rep

Packie Kelly, Teach na Daoine
Family Resource Centre

Zeinab El Mustafa, Cultural
Champion
11:00 -11:15: Break
11.15 – Building for the Future
Presentations
Sheevaun Thompson, LAWPRO –
Funding Opportunities

Mark Lloyd: The Rivers Trust
strategy – island of Ireland
development

Jimmy McVeigh, LAWPRO – How
we are supporting communities

Olive Carey. Shannon Wetlands
Project Urban Wetlands: Building Partnerships for Nature and People

Philip James & Micheal O'Cinneide:Not giving up on LIFE: Developing a public data sharing platform for Ireland's freshwater environment
12.15 – Launch of Community
Water Development Fund
Presentation
Sheevaun Thompson, LAWPRO
12.20 – Open Q&A
Moderator: Mark Horton, The Rivers Trust
12:55 – Closing Remarks
Bernie O'Flaherty, LAWPRO