Conference: Catchment science and management – the role of geoscience and groundwater
The 41st Annual IAH Irish Group Groundwater Conference Catchment Science and Management – The Role of Geoscience and Groundwater will be held on Zoom over two half-days on Monday 26 and Tuesday 27 April 2021.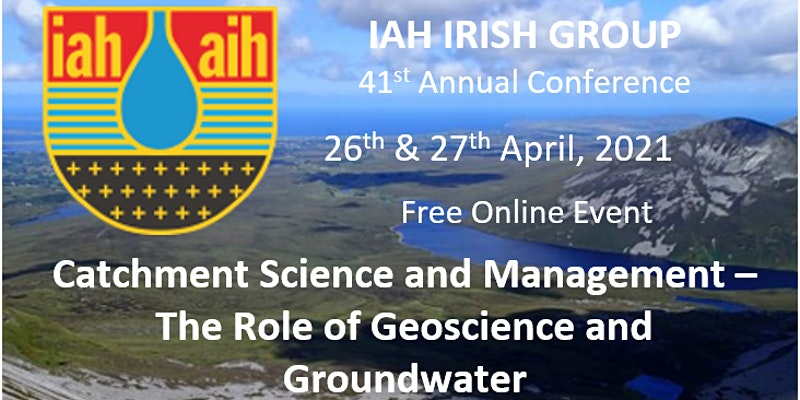 Day 1 will run from 13:30 to 17:30 and Day 2 from 09:30 to 13:30.
Registration is free online through Eventbrite. Bound copies of the conference proceedings can be ordered in advance for €35 through Eventbrite when you register. The proceedings will also be available on the day as a pdf on the IAH Ireland website, https://www.iah-ireland.org/
There will be a total of 14 presentations over two half-days, from consultants, academics and state agencies, as well as an Early Careers Session.
On our first day, session one, Catchments and the Environment, will take a broader perspective and includes talks on the Framework for Integrated Land and Landscape Management developed by An Fóram Uisce (Gretta McCarron, An Fóram Uisce), Nature-based Catchment Management (Patrick Morrissey, EPA) and a karstic lake habitat (Cilian Roden, Consultant).
Session two, Investigating and Assessing Catchment Water Quality, consists of presentations on the 3rd WFD Cycle River Basin Management Plan (Marie Archbold, EPA), the Agricultural Catchments Programme (Per-Erik Mellander, Teagasc), local catchment assessment (Eoin McAleer, LAWPRO), and the CatchmentCARE Project (Caoimhe Hickey, GSI).
Half-day number two kicks off with a session on Insights on Water Flow in Catchments, with talks on the role of groundwater in catchment functioning (Alan McDonald, BGS), blanket bogs and streamflow (Ray Flynn, QUB), and characterising flows in a western karst terrain (Suzanne Tynan, Consultant).
The final session is titled Managing Drinking Water with a Catchment Based Approach, and the speakers will present on the recast Drinking Water Directive (Lorraine Gaston, Irish Water), mitigation actions using the pollutant transfer continuum (Patrick McCabe, NFGWS), catchment modelling of orthophosphate leakage from water mains (Gerry Baker, Arup) and catchment management in a karst environment (Coran Kelly, Tobin).
Learn more:
Tickets are available on Eventbrite. You will receive a link to join the conference by email a few days before the event.
Further details are available on the IAH website.