Catchments Newsletter – sharing science and stories. Winter 2021.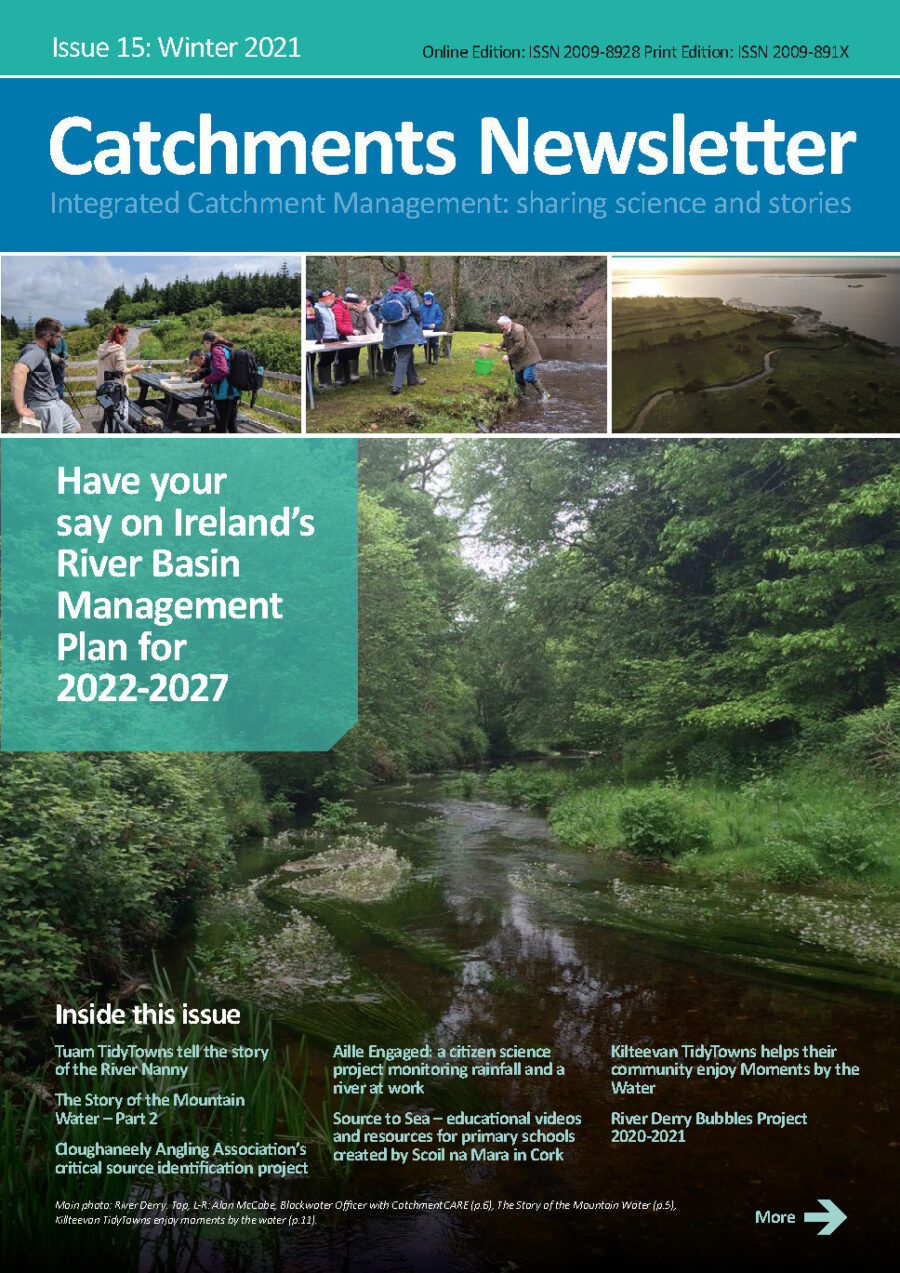 Version
Download
20
Stock
∞
Total Files
1
Size
0.00 KB
Create Date
27th January 2022
Last Updated
In this issue:
Waters and communities news:
Tuam TidyTowns tell the story of the River Nanny; The Story of the Mountain Water – Part 2; Cloughaneely Angling Association's critical source identification project; Aille Engaged: a citizen science project monitoring rainfall and a river at work; Source to Sea – educational videos and resources for primary schools created by Scoil na Mara in Cork; Kilteevan TidyTowns helps their community enjoy Moments by the Water; River Derry Bubbles Project 2020-2021.
Articles:
Public consultation opened on Ireland's draft River Basin Management Plan for 2022-2027; Water Quality in 2020: An Indicators Report; EPA publishes an assessment of which catchments need reductions in nitrogen concentrations; EPA submission on the fourth review of Ireland's Nitrate action Programme: EPA publishes 46 updated draft Catchment Assessments on catchments.ie to support public consultation on the draft River Basin Management Plan; Public consultation and local engagement on the draft River Basin Management Plan for Ireland 2022 – 2027; Ireland's Quality Rating (Q-Value) River Monitoring System 1971-2021 - how 50 years of looking at what lives in our rivers can tell us about the health of our freshwater ecosystems; Local Authority Waters Programme launches their new website www.lawaters.ie; Ireland's River Basin Management Plan: regional governance structures - what do they do?; Smart Farming Seminar: Sources and Solutions – the link between our soils & water quality; Nature-based Catchment Management – working with nature to benefit biodiversity, water and the climate; The Water Forum – working together for water quality; The Water Forum - fact sheet on the River Basin Management Plan.
| File | Action |
| --- | --- |
| Catchments Newsletter - sharing science and stories. Winter 2021..pdf | Download |
Download