The Local Authority Waters and Communities Office
In Ireland, we are never far from at least one of our natural waters, be they our rivers, lakes, transitional, coastal and groundwaters. The quality of these waters and the wildlife habitats they sustain play an important part in many aspects of our lives.
Much of our recreation time is spent on or around water, whether it's fishing, boating or simply walking along a beach or a river bank. We use water on a daily basis in our homes and our hotels, on our farms and in our factories, in our cities and our towns. Our very existence depends on the availability of water. As such, we all have a vested interest in the management of our waters and areas around them, which are referred to as catchments.
A water catchment is simply defined as an area of land contributing to a river, lake or other water body, such as groundwater.
These areas are not defined by the administrative boundaries we normally associate with our counties and therefore ownership and responsibility for the management of these waters must lie with their local communities.
The national Local Authority Waters and Communities Office has been established to deliver two key objectives:
to coordinate the activities of all 31 local authorities in areas relevant to the Water Framework Directive and
to carry out public consultation and engagement with communities and stakeholders, as required by the Directive.
The office is operated by Kilkenny and Tipperary County Councils on a local authority shared services basis, and is headed up by Matt Shortt, Director of Services, Tipperary County Council and assisted by Carol McCarthy, A/Senior Engineer, Environment Section, Kilkenny County Council.
A staff compliment has now been appointed which includes:
Bernie O'Flaherty, Regional Coordinator, Border Region and links with Northern Ireland. Based in Carrick-on-Shannon.
Ray Spain, Regional Coordinator, Mid Region (East-West). Based in Tullamore.
Dr Fran Igoe, Regional Coordinator, Southern Region. Based in Clonmel.
The three specialist support officers, based in the Clonmel office are:
Sheevaun Thompson, Funding Lead;
Alan Walsh, Communications and Marketing Lead and
Michael Pollard, Technology and Research Lead.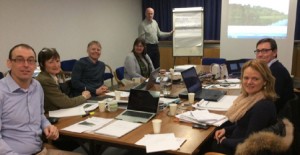 In addition, there will be a network of twelve Community Water Officers located in centres throughout the Republic of Ireland and a recruitment process for these is currently underway.
So far the Local Authority Waters and Communities Office has set about meeting with local authorities through various fora such as Strategic Policy Committee meetings, Management Team Meetings and Regional Information Sessions. Initial public engagement has taken place through the Public Participation Networks, Local Community Development Committees, LEADER Groups, Partnerships, sectoral interest groups, Rural Development companies and the Irish Local Development Network. From August 2016 onwards our Community Water Officers will actively engage with the public on areas connected with water management both locally and in the wider catchments.
The success of community led projects such as those run by IRD Duhallow LIFE are good examples of a bottom up approach to local governance. By looking at the experiences of the Rivers Trusts across Ireland and the UK, and also Rural Development Companies, we can see the benefits of community stewardship in relation to water management. For this catchment based approach to be successful it will require all stakeholders including Local Authorities, Public Authorities, Non- Government Organisations and Communities to cooperate and work together for common goals.
Funding will be critical if communities are to be mobilised and empowered to take on a greater role in the management of their local water environment. To this end, our office will offer technical advice and assistance to local authorities, community and voluntary groups on local, regional, national and EU funding streams with a connection to water management.
Community engagement will require education and awareness campaigns to deliver the right message to the right groups in the right way. Results and lessons learnt from projects and initiatives with a connection to water can be shared widely on social media platforms, thereby facilitating knowledge and information transfer between communities.
This innovative approach to integrated catchment management has never been attempted on this scale anywhere in Europe. For this to work we must see all our influences on our natural waters as part of a bigger picture in the wider catchment sense and work together to manage them. This should result in improved water quality and the associated benefits that go with it.
Finally, a quote from the Water Framework Directive:
'water is not a commercial product like any other but rather, a heritage which must be protected, defended and treated as such'.
For further information about the Local Authority Waters and Communities Office phone 0761 065262 or email info@lawco.ie . You can also visit our website at www.lawco.ie , like us on Facebook. com/watersandcommunities and follow us on Twitter – @lawco7
Article by Alan Walsh, Local Authority Waters and Communities Office.