Community Information Meetings in Priority Areas for Action
Bernadette White tells us how talking with the local community is the first step taken in any catchment, with the LA Waters Programme introducing themselves, their findings, and the proposed Local Catchment Assessments. This allows people living and working in the catchment to discuss any issues, and get involved in potential solutions.
In the Winter 2018 Catchments Newsletter we learned about the new Local Authority Waters Programme Catchment Assessment Team, and the approach being taken to Local Catchment Assessments. Local Catchment Assessments are being carried out in the 190 Areas for Action targeted in Ireland's River Basin Management Plan 2018-2021.
The first step in our Priority Areas for Action is a desktop study. We then hold Community Information Meetings to introduce people to the LA Waters Programme, to tell people about our initial findings, and the assessments we are proposing. These meetings allow those who live and work in the catchment to discuss and get involved in any potential proposed solutions. Meetings started in 2018, and will continue throughout 2019, 2020 and 2021.
You can track the progress of work in Priority Areas for Action here: www.catchments.ie/data/#/areaforaction
Community meetings
Each community meeting was opened by the local Community Water Officer, who gave feedback on the local consultation on the Draft River Basin Management Plan in 2017, including a report on how the submissions were dealt with, and informed the final Plan published in April 2018. Details on the Community Water Development Fund for 2019 were also provided.
This was followed by a presentation by the Regional Catchment Manager or a Catchment Scientist. This part of the meeting focused on who we are; which agencies we are working with; where we plan to work; why we were specifically in their community; and what we plan to do and where. We also told people about our initial findings from our desktop assessments.
Our desktop assessments build on the knowledge gained during initial characterisation undertaken by the EPA, and the outcome of each assessment will tell the story of the Priority Area for Action, with interim conclusions made on the significant issues (e.g. phosphate, sediment etc.), significant pressures (e.g. industrial discharges, urban waste water, agriculture etc.). By late 2018, the Catchment Assessment Team had started approximately 50 desktop assessments.
The meetings so far were well received, and there were some lively debate and questioning of our teams, followed by refreshments and opportunity for further conversations. Attendees raised many local water issues that are of concern to them including; impacts on fish, flooding, sediment and maintenance of rivers, nutrient pollution, pesticide impacts on water, and discharges from waste water treatment plants.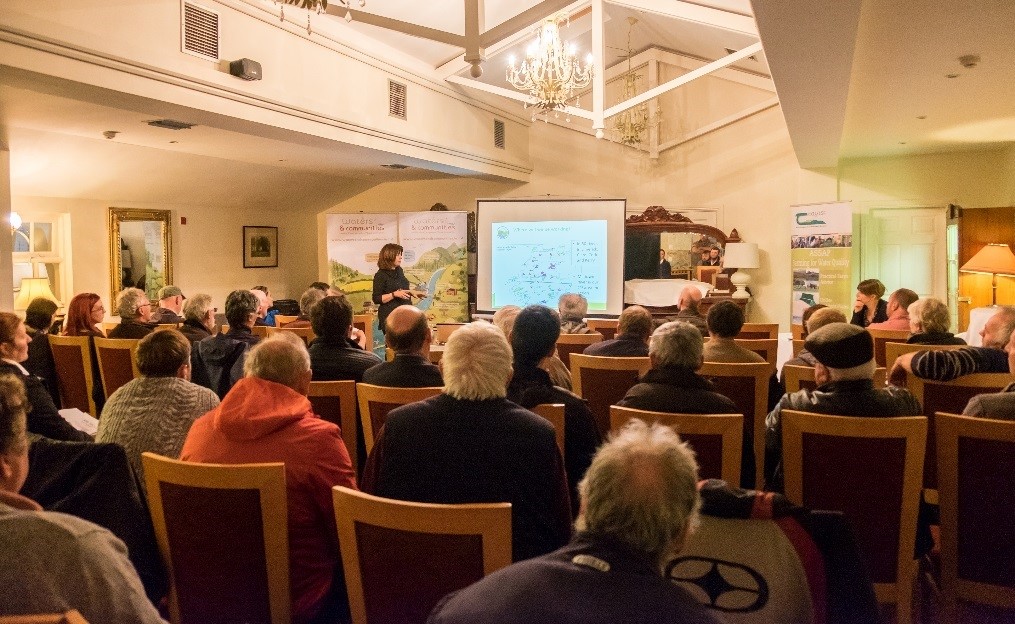 More general questions were asked about the programme, for example further details on why the priority areas were chosen; how long the teams would be active in the area; land access permissions; engagement with the farming community specifically; how we would engage with the community post meetings and assessment work, and how we would update them on our progress.
All Community Information Meetings were advertised on www. watersandcommunities.ie; in selected local newspapers; through the Public Participation Network and via radio interviews where possible. Posters were placed in local community venues, and Elected Members of the Local Authorities were also notified of meetings. Where possible, local community venues were chosen to hold the meetings such as town halls and community centres. It was important to the team that the meetings were held within the Priority Area for Action, where feasible.
Comments provided at the meetings included:
"We are very grateful and supportive of the respectful approach you have taken to public engagement on your work. How can we help you and your team?"

Councillor Orla Leyden & Councillor Kathleen Shanagher at the Clooneigh Community Information Meeting, Kilteevan Community Centre, Kilteevan, Co. Roscommon
"We are disappointed with the obvious decline in the water quality of our local river. We feel many pressures are acting on the river, and this has impacted the fish and other fauna living in the river."
"How will the Catchment Assessment Team monitor improvements in the river? We have a lot of concerns about pesticides, nutrients and sediments getting into our local river."
Twenty Community Information Meetings were held across the five Regions in 2018 and three farmer stream-side meetings were also held. These meetings were facilitated by both the LA Waters Community Water Officers and Catchment Assessment Teams, and the Agricultural Sustainability Support and Advisory Programme for the farmer meetings. The Community Water Officers have been working with communities over the last 3 years on engagement, events and projects, and this important work will continue in parallel with the work of the Catchment Assessment Team. Of the 20 meetings held between October and December 2018, attendance numbers varied from 20 to 60. Attendees included representatives from TidyTowns groups, Group Water Schemes, Heritage Groups, Angling Clubs, farm organisations, local authority councillors, and private individuals.
Each community meeting held in 2018 is being followed up by farmer meetings, led by the Agricultural Sustainability Support and Advisory Programme, and delivered with the support of the Catchment Assessment Team. Three stream-side farmer engagement events were held in December 2018, and further events are scheduled for throughout 2019. At these events, the Catchment Assessment Team demonstrates some of the local catchment assessment methods they will be using to tell the story of the Priority Area for Action, such as the use of bugs as biological indicators from the river, for example macroinvertebrates and macroalgae, and the use of hand-held devices such as dissolved oxygen meters and conductivity meters.
Bernadette White, LA Waters Programme
Learn more:
You can get updates on the progress in all 189 Priority Areas for Action here: www.catchments.ie/data/#/areaforaction
Community Information Meetings will be taking place throughout 2019 and beyond. www.watersandcommunities.ie has the schedule of upcoming meetings and we look forward to seeing you at a local meeting soon.
Local Catchment Assessments: the next step in characterising our catchments – www.catchments.ie/local-catchment-assessments-the-next-step-in-characterising-our-catchments