Significant Pressures: Forestry
Forestry has been identified as the fourth most prevalent significant pressure, impacting 238 waterbodies or 16% of the 1,460 At Risk water bodies (Table 1).
Forestry is a significant pressure in 51 (40%) of the 127 At Risk water bodies with a high ecological status objective.
Table 1: Number of At Risk water bodies with forestry as a significant pressure
| | | | | | |
| --- | --- | --- | --- | --- | --- |
| Waterbody (WB | Number of WBs | Number of At Risk WBs | Number of WBs with forestry as a significant pressure | % of WBs with forestry as a significant pressure | % of At Risk WBs with forestry as a significant pressure |
| River | 3192 | 1178 | 215 | 6.7% | 18.3% |
| Lake | 818 | 132 | 18 | 2.2% | 13.6% |
| Transitional | 195 | 56 | 0 | 0% | 0% |
| Coastal | 111 | 13 | 0 | 0% | 0% |
| Groundwater | 513 | 73 | 0 | 1.0% | 6.8% |
| | 4829 | 1452 | 238 | 4.9% | 16.4% |
Water quality problems in water bodies impacted by forestry
Over 20% of these water bodies have a High Status Environmental Objective and most are only one category away from their target of Good (61%) or High status (90%) (Figure 2). Over 60% of these water bodies have one or more other significant pressures in addition to forestry.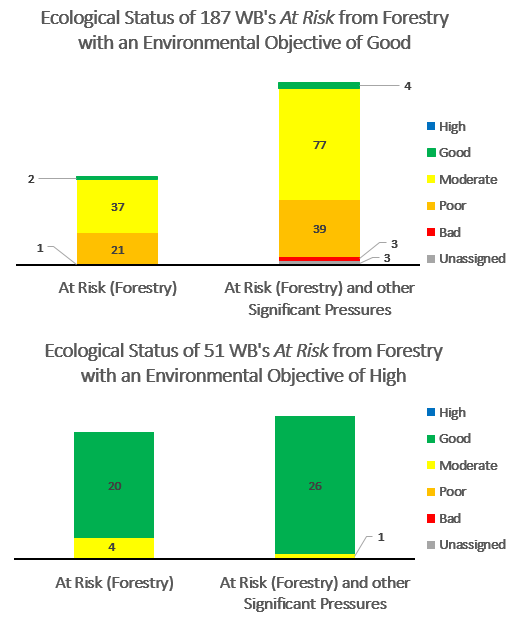 The most common water quality problems arising from forestry relate to the release of sediment and nutrients to the aquatic environment, and impacts from acidification. Forestry may also give rise to modified stream flow regimes caused by associated land drainage.
Sediment Sources and losses
Biological monitoring data indicates that excess fine sediment is an issue in some water bodies. Fine sediment fills the spaces between larger gravels in the stream bed and can interfere with aquatic ecosystem functions, particularly in the more sensitive high status waters where forestry has been identified as a significant pressure in 40% of At Risk water bodies. Juvenile individuals of the critically endangered Freshwater Pearl Mussel are particularly sensitive to fine sediment, and inappropriately planned and managed forestry activities can act as a source within relevant catchments. Sediment is also often the transport mechanism for chemicals and nutrients that are attached to the sediment particles.
Typical sources of sediment from forestry activities include thinning and clear-felling, pathways created by machine rutting on clear-fell sites, site preparation for afforestation, road construction associated with forestry activities, and inappropriate forest drainage.
Nutrient sources and losses
Nutrient losses give rise to eutrophication in our water bodies. The key nutrients causing impact from forestry are phosphorus and ammonium. Too much phosphorus loss is typically the issue for rivers and lakes. Phosphorus losses from forestry can arise from the decomposition of brash left on former conifer clear-fell sites on peat (including brash mats created to protect soil from machine passage during harvesting and extraction), fertilisation application during forest establishment (if applied), and inappropriately managed aerial fertilisation, an operation that requires licensing under the Forestry Regulations 2017.
Ammonium losses can occur where peatlands have been planted. Both drainage and tree roots result in lowering the water table in peatlands. The lowering of the water table allows the peat to break down, causing the release of ammonium. Further research is required to precisely understand this process, and the combined impacts of ammonium, pH and dissolved organic carbon on the aquatic environment. Nutrient enrichment caused by the breakdown of deadwood on peat can also impact water bodies. The recently introduced Land Types for Afforestation procedure removes many peat sites from afforestation.
Pesticides Sources and losses
Herbicides have a significant impact on aquatic ecology and a small amount can cause a disproportionate amount of damage. Herbicides are used in some afforested sites to manage vegetation competition. They can impact water bodies as run-off if they are applied inappropriately.
Physical Alteration of habitat
Physical alteration of habitat refers to the physical modification, or damage to habitat, and the alteration of a water bodies' natural functioning. In terms of forestry, physical alteration is caused mainly by the associated land drainage that can give rise to modified stream flow regimes.
Acidification Sources and Losses
Many of Ireland's older forests are located on upland and peatland areas where the soils are naturally acidic. Conifer species dominate these forests as they are best adapted to exposed sites and acid soils. However, these conifer plantations can increase site acidity by capturing and concentrating airborne pollutants, which are subsequently washed into surface waters.
These acid sensitive areas are in Clare, Galway, Donegal, Kerry, Offaly, Sligo and Wicklow. Water bodies in these areas are more likely to be impacted by acidification, which in turn impacts the aquatic ecology.
Possible Solutions
The mitigation actions will vary depending on the issue. For sediment, mitigation actions include increased water setback widths, the creation of native woodland buffers, the installation of silt fences and silt traps, and the slow-water damming of drains. These actions can also be beneficial in mitigation of impacts from nutrients. Other ways to manage nutrient run-off include site-specific evaluation of fertiliser needs followed by careful application, and brash management on clear-felled sites over peat.
Mitigations of the impacts of herbicide include water setback widths and careful application that considers the weather conditions, along with preparation, storage and disposal of pesticide containers. In highly sensitive sites or part of sites, non-herbicide methods such as mats and mulches could be utilised instead.
For physical alterations of habitat, the EPA is currently developing the evidence base to identify the physical conditions necessary to support good and high ecological status. This evidence base will facilitate the design of improved mitigation measures.
Under the long-established DAFM/EPA Acid Sensitivity Protocol, applications for afforestation licensing on sites located within the designated acid sensitive areas require water samplingwith the level of calcium carbonate dictating whether afforestation can proceed from the perspective of surface water acidification. With the agreement of the EPA, applications for Native Woodland Establishment can be processed by DAFM without the need for water sampling since February 2013, in recognition of the wider range of water-related ecosystem services such woodlands deliver.
The Next Steps
Forestry and Water: Achieving the Objectives and Priorities under Ireland's River Basin Management Plan 2018-2021 sets out various forests and water measures the DAFM is utilising to protect and enhance water quality. These range from recent legislation, a revised felling and reforestation policy, the Land Types for Afforestation procedure and the Environmental Requirements for Afforestation.
Support measures include the promotion of agroforestry and 'neighbourwoods' and the application of the Native Woodland Scheme with Woodlands of Ireland and other partners. This scheme includes funding for the creation of new native woodlands and for native woodland conservation, including conversion from conifer forests to native woodland in key water-sensitive areas. Forests & Water also sets out a series of mobilisation mechanisms to make the most of these measures, such as coordination with WFD partners, changes to its application system, and a protocol for handling acute forestry and water incidents. Most recently, the DAFM released its Woodland Environmental Fund, which is aimed at channelling corporate sponsorship to landowners who engage in native woodland creation to maximise various ecosystem services, including the protection and enhancement of water quality. The Department is also currently preparing the Plan for Forests & Freshwater Pearl Mussel in Ireland, following recent public consultation.
Find out more:
For planning and policy, including measures, see www.bit.ly/rbmp20182021
See DAFM's 'Forests & Water' and 'draft Plan for Forests and Freshwater Pearl Mussel in Ireland', available at www.bit.ly/forestsandwater
You can view the individual water bodies where forestry is a significant pressure on www.catchments.ie/maps