EPA Drinking Water Report 2016
The EPA Drinking Water Report 2016, released September 12th, shows that the quality of drinking water in public supplies remains high, though further improvements are necessary to improve the security of supplies and avoid water restrictions, including Boil Water Notices.
Drinking water testing throughout 2016 confirmed a very high level of compliance with microbiological and chemical standards, indicating that the majority of our water supplies are safe.
Monitoring of public drinking water in Ireland shows that:

99.9% of samples comply with the microbiological standards
99.5% of samples comply with the chemical standards

41 Boil Water Notices were put in place during 2016, affecting more than 84,000 people.
There are 87 "at risk" supplies on the EPA Remedial Action List:

58 of these supplies have elevated levels of Trihalomethanes
25 of these supplies lack adequate treatment to prevent Cryptosporidium entering the water supply.
You can see all these locations on the Map below.

Kerry, Cork and Donegal account for almost half of the "at risk" supplies identified by the EPA.
The report states that action programme dates set out by Irish Water to improve 24 "at risk" supplies have slipped.
"While the removal of long-term boil water notices in supplies like the Whitegate Regional Supply in Cork and Loughrea public water supply in Galway in 2016 was welcome, there remains over 3,600 people on a Boil Water Notice today. The EPA has identified supplies serving over 700,000 consumers where improvements to water treatment infrastructure are necessary to meet public health standards."

Ger O'Leary, EPA Director
"While the incidence of E. coli in public water supplies continues to decrease, the current challenge is to reduce the levels of other pollutants in public water supplies across the country, particularly THM, and pesticides.  The number of supplies reporting THM failures remains high, and a consistent national approach must be adopted to ensure that pesticides are prevented from entering our drinking water sources. We have also identified 25 supplies that require adequate treatment to prevent Cryptosporidium entering the water supply."

Darragh Page, Senior Drinking Water Inspector, Office of Environmental Enforcement, commenting on threats to drinking water quality such as Cryptosporidium, E. coli and Trihalomethanes (THMs)
The EPA Drinking Water Report 2016 is available on the EPA website.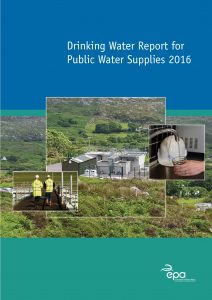 Remedial Action List for Public Water Supplies
The EPA's Remedial Action List (RAL) is a register of public water supplies with the most serious deficiencies and known to be most at risk, where the EPA is requiring Irish Water to take corrective action to ensure the safety and security of the supplies. The EPA has instructed Irish Water to submit an action programme for the improvement of each of these water supplies and has initiated enforcement action where action programmes have not been prepared or implemented to the satisfaction of the EPA. This includes issuing legally binding Directions requiring specific work to be carried out to ensure the safety and security of a water supply.
Since the original RAL was published in 2008, 83% (282) of supplies have been removed from the original list because the necessary remedial actions have been completed. The primary issues addressed to-date include disinfection of E. coli, barriers to Cryptosporidium, adequate treatment for trihalomethanes and operational controls for managing aluminium and turbidity levels. The EPA updates and publishes the RAL on a quarterly basis. 87 supplies remain on the RAL at the end of July 2017 which collectively supply water to 736,416 consumers.